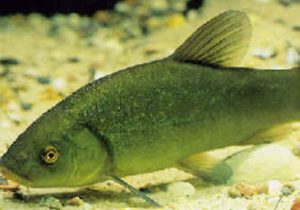 Name
Golden Hump Tench from the Pianalto of Poirino
Seal of quality
D.O.P. European Commission Regulation 160/08, published in the Official Gazzette of the European Union  on 21/02/2008
Description
The full denomination "Tinca gobba dorata del Pianalto di Poirino", is used to distinguish the versions, in the fresh state of the Tench fish variety (Tinca tinca)  which are raised, reared and born from reproducers which have in turn been reared in the geographic area defined as the zone of Pianalto, the morphological characteristic being the distinctive golden yellow colour of the skin and its bent and humped back. Tench meat is tasty and succulent, low in fat and with few fishbones,  with fine tegument.
Area of production
The area that is geographically defined "Pianalto di Poirino" consists in 24 comunes over 3 provinces (Cuneo, Asti and Turin). In the province of Cuneo this includes the communes of Ceresole d'Alba with the entire communal territory, Baldissero d'Alba, Monta'  d'Alba,  Montaldo  Roero,  Monteu Roero, Pocapaglia, Sanfre',  S. Stefano Roero, Sommariva del Bosco and Sommariva Perno.
History
The geographic origins of the golden hump tench in the Pianalto, is well documented in a series of written and oral records, and its presence can also be confirmed by geological and paleonthological records. In fact the formation of fluvial-lake deposits of the Villafranca facies of the Upper plains of Poirino date back to the late Pliocene and lower Pleistocene period, which was the era in which the first fossil remains of the Tinca tinca belong. There are in fact both ancient and recent documentary sources that confirm the special bond that exists between the tench and the local area, and humans has always been strong and resilient over time. The presence of the golden hump Tench in the Pianalto di Poirino, as a reared fish that was highly appreciated for its nutritional and economic value, has been proven by documents that date back to the 14th century, when, amongst one of the many taxes to which the rural population of Ceresole  d'Alba was subjected, imposed the consignment of variable quantities of tench.
Nowadays there are a total of 105 fishmongers operating in Ceresole d'Alba, many of which had already been cited in the land registry of 1632, 1742 and 1895. Amongst the many curious facts, there are the details in the  historic archives of the commune of Ceresole d'Alba, that some of the fishmonger's that belonged to the commune, as early as 1878, were re-rented to  Mr.Reinero Pietro di Carlo, whose profession was that of a fisherman, an unusual profession in a zone famed for being "rasatà" due to a lack of water. Professional fishing activities, therefore that of tench breeding, has been ongoing for centuries, and only recently in the 50's has it disappeared totally, today being included amongst those activities of an agricultural nature.
Galleria fotografica