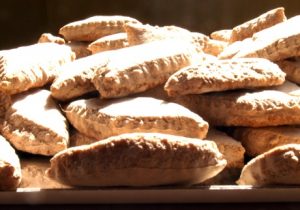 Name
Mustaccioli
Seal of quality
Prodotto Agroalimentare Tradizionale (PAT) / Typical food-farming product. Updated list of traditional Piedmontese food farming products.
Description
Mustaccioli are rhomboidal-shaped biscuits, of a pale violet colour, with a taste of wine and spices.
For the preparation of the Mustaccioli, you will need 2.2 kg flour, 2 kg sugar, 1 l Barbera wine, 50 g clove powder and 30 g cinnamon powder. Knead the flour, sugar and spices with 374 cl. of wine. Halfway through kneading, add the rest of the wine gradually until the pastry is thick and smooth. Roll out the pastry to a layer of about 1 cm thick and with a pastry cutter cut out rhombus-shaped disks 5 – 6 cm wide. Place on an oven tray and bake at 175° C for about 20 minutes.
Mustaccioli will store up to two months.
Mustaccioli are produced in normal artisan bakery and confectionery workshops, in conformity with current regulations and utilising the usual equipment.
Area of production
Mustaccioli are produced in the communes of Cuneo's valley bottoms, in particular in the Po Valley area.
History
Mustaccioli, which can be confused with biscuits of the same name produced in the south of Italy, in Campania, Puglia and Sicily in particular, and which were already produced in the 19 th century in valley-bottom towns in the province of Cuneo, were originally from Revello, in the Po Valley, where they can still be found today at some local bakeries.