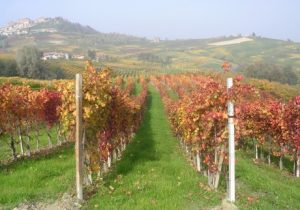 Name
Barbera of Alba
Seal of quality
Guarantee of Origin.
A.O.C. – D.P.R. 27th May 1970
Description
Barbera d'Alba is a prestigious wine, rich in impeccable colours, generally evoking a deep ruby red, the colour of cardinal cassocks; a generous and heterogeneous bouquet, with fruity scents recalling blackberries, cherries, strawberries and red fruit jams, and spiced aromas recalling cinnamon, vanilla, green pepper. Its flavour is full-bodied. At the same time, it is a versatile and important wine that can resist time, even long periods, and is capable of confirming, after so many years, the most authentic characteristics of a land and vine of unmistakable prestige.
The vine species is 100% Barbera and the minimum alcohol content is 12% vol. If the wine is obtained from grapes with a natural total minimum alcoholic content of 12.5% vol and undergoes an ageing period of at least one year in durmast or chestnut barrels, it can bear the qualification "superiore" on its label.
Area of production
The area of production concerns the region of 54 communes in the province of Cuneo , situated both on the right and on the left of the river Tanaro.
History
"Vitis vinifera Montisferratensis" is the ampelographic denomination that, in full 19 th century, was attributed to the Barbera species of vine, a wine-grape variety that gave Piedmont , depending on the seasons, great problems and immeasurable satisfaction. Its Piedmontese origin is certain to the point that it is thought it comes from a spontaneous cross with older species of vines. However, even its preliminary presence in Monferrato is certain, as also its arrival on the hills of Alba only in 1800. Then, a vine like Barbera, strong and resistant to diseases, capable of adapting to the most varied environments, maintaining constant and highly intensive yields, could not avoid extending also to the Langa and Roera hills in a period in which wine was considered the fundamental nutriment for man and his fatigues.
In the 70s, the involvement of Alba's production on a market at international levels and the endless quality research essential to this productive sector, gradually transformed this wine – and not only with regard to its image – making it become a high-class product, suitable to be aged at length, capable of competing with the great red wines on the most prestigious tables throughout the world.
In 1994, the current "Consorzio di Tutela Barolo, Barbaresco, Alba Langhe and Roero" was founded, as a point of reference for wine-makers in the areas between Langa and Roero, that have identified in this structure the most suitable means with which to face together and authoritatively the problems related to the development and organisation of this reality and of the sector as a whole.
Galleria fotografica