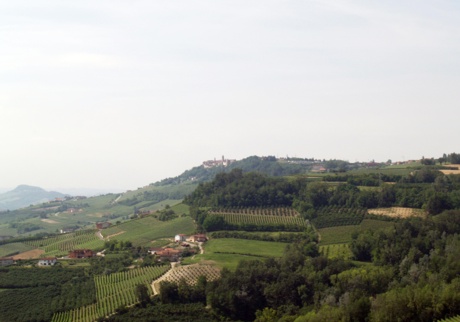 Name
Verduno Pelaverga
Seal of quality
Guarantee of Origin.
A.O.C. – D.P.R. 20th October 1995
Description
A very modern wine, perfect for present-day food requirements, its delicate balance between acidity and tannins make it fresh and pleasant to the palate, even if with a certain body. With its soft ruby colour, highlighted with shades that go from violet to cherry, it is enjoyable drunk young, when flowery and fruity hints such as violets and cherries prevail, and stimulating when it reaches moderate ageing, emphasising the characteristic spicy notes of green and white pepper.
This wine derives from the Pelaverga Piccolo vine with the possibility of a maximum 15% supplement of other black grape vines, and has a minimum alcoholic content of 11% vol.
Area of production
The area of production corresponds to the entire commune of Verduno and part of the communes of La Morra and Roddi.
History
This original wine is produced with one of the most rare vines in Piedmont , the Pelaverga Picolo, which in Verduno has obtained its greatest success. It comes from a few hectares of vineyard in the communes of Verduno, La Morra and Roddi to the west of Alba.
This vine has been on these hills from time immemorial, linked with the name of Beato Sebastiano Valfré da Verduno, giving it a touch of holiness as well as rumours of being aphrodisiac, and has always been considered a young knight, carefree and adventurous, at the Barolo court.
In fact, in the last century, the cellars of Verduno castle were founded, where king Carlo Alberto, fascinated by the qualitative nobility of the great wine originating from Nebbiolo, carried out his winemaking experiments on Barolo grapes.
Today, with its fragrant and peppery bouquet, it is considered the wine of meticulous connoisseurs, enthusiasts of rarity, constantly in search of new emotions and special combinations.
It has always been produced with other vine species of the area, only in the last ten years has it been purely produced, and in a short time has acquired personality and consumers' appreciation, starting from the local market which was the first to confirm its success.
In 1994, the "Consorzio di Tutela Barolo, Barbaresco, Alba Langhe and Roero" was founded as a point of reference for wine producers in the area between Langa and Roero, who have identified in this structure a means with which to face together and authoritatively problems relating to the development and organisation of their reality and sector as a whole.