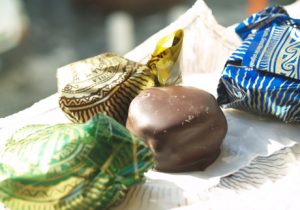 Name
Rhum Chocolates
Seal of quality
Typical Food Farming Product (PAT).
Description
They are often named after the place where they are produced, these chocolates feature a small portion of rum cream inside a meringue layer which is then coated with a fine layer of dark chocolate, they are round in shape, and of dark brown colour with a piece size of about 15-20 grams.
The most well known of these chocolates are today the Cunesi al Rhum, which consist of two meringue layers with a cream filling inside. The preparation process of the chocolate is fairly complex and requires the use of egg white, sugar, cocoa, pastry cream, rum and dark chocolate.
The meringue is prepared using egg white, sugar and cocoa. The egg whites are beaten until stiff with the addition of sugar and cocoa. The mixture is used to form tiny meringue mounds which are placed on a baking tray and baked in an oven at 180 °C for about 20 minutes, and which are then moulded as soon as they come out of the oven to obtain hollows- The pastry cream is then poured into the meringues to which the rum is added and then they are paired. After allow to rest for a night, the meringues are then totally immersed in dark chocolate that is still hot, then left to cool and finally wrapped.
Similar kinds of chocolates are also produced in many other areas of the province of Cuneo, and in other areas of Piedmont and are named after the place of production; such as the Albesi, Saluzzesi, Bargesi and Fossanesi, to cite only a few. They are available in several varieties using hazel-nuts, almonds, chestnuts, coffee and other ingredients.
Area of production
The rum chocolates are produced in many areas of the province of Cuneo and other parts of Piedmont.
History
It would appear that the art of  praline chocolate making first originated in France, with the development of "mignon" patisserie and then brought to Piedmont by the master Turin chocolate makers. The rum praline was supposed to have originated in Dronero in the late 1800's, in a pastry kitchen, when a pastry chef, tired of removing the meringues that failed to perfectly detach from the baking trays, decided to put them together in pairs with a cream to conceal the breakages. They proved so successful that he began to pair even the meringues that did not break, attaching them together with various creams and then immersing them in dark chocolate. They proved so popular that they were also exported to other countries.
Galleria fotografica