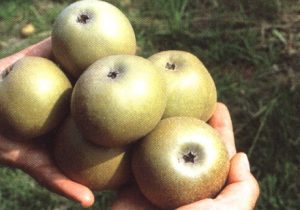 Name
Grey Pippin Apple of Torriana
Seal of quality
Prodotto Agroalimentare Tradizionale (PAT) / Typical food-farming product.
Description
The Renetta Grigia di Torriana takes its name from the characteristic of its peel, completely rusty brown, and from the homonymous town of Barge , where it is grown and where its origin lays. It has an early blooming season, precisely the second week in April whereas it is picked during the second ten days of October. The fruit has a flattened aspect, medium size, a short and medium-short peduncule, rough peel, 100 % rusty-coloured with large lenticels. Its pulp is of a course texture, its taste acidulous sweet and its colour a creamy white.
It is a very rustic plant, resistant to harsh conditions and adapts well to the organic production methods. The characteristic of these fruits is its capacity to store well even out of the refrigerator until the end of February, March. This type of fruit is particularly suitable for baking.
Nutritional characteristics
The high and balanced vitamin and salt content makes this apple the dietary supplement par excellence. The high presence of polyphenols, oxidising agents which combat free radicals, helps to slow down the cell-aging process and the setting in of various diseases such as those related to the cardiovascular system, and can help to prevent cancer formation.
| FOOD | | Mele fresche – renette |
| --- | --- | --- |
| Edible part | % | 71 |
| Water | g | 87,6 |
| Protein | g | 0,3 |
| Fat | g | 0,1 |
| Carbohydrates | g | 10 |
| Starch | g | tr |
| Soluble sugar | g | 10 |
| Total fibre | g | 1,7 |
| Energy | kcal | 40 |
| Kilojoules | kJ | 166 |
| Sodium | mg | tr |
| Potassium | mg | 105 |
| Iron | mg | 0,2 |
| Calcium | mg | 5 |
| Phosphor | mg | |
| Thiamine | mg | |
| Riboflavin | mg | |
| Niacin | mg | |
| Vit A ret. eq. | mcg | |
| Vit C | mg | 8 |
| Vit E | mg | |
Area of production
The renetta grigia di Torriana is grown in a small fraction of S. Martino di Barge – Torriana – and in the commune of Barge. Growing has also been extended to the communes of Bagnolo and Cavour.
History
The renetta grigia di Torriana has been grown for a long time in the Barge area, as explained by voice from generation to generation, (it was nicknamed pum ruslen which in dialect means "rusty apple"). Since 1905, cultivation of this apple, starting from the fraction of Torriana di Barge, has spread to other places, especially in the Bagnola and Cavour areas. This product is also reported on the lists of exhibitors at the 1937 "OTTOBRATA".
The queen of baking apples, in the past it was made into compotes in the Pinerolo area: at the end of winter, the "greys" were left to ferment for two months in barrels filled with water, covered with a "paissas" of rye hay and a Luserna stone "losa".
Grown in thousands of quintals at the end of the 19th century and exported to Germany , England and even to Egypt , its production today has dropped drastically. Nevertheless, in the last ten years there has been a positive turn of tendency and, in view of a new demand for this product, new production plants have been created. September 2002 saw the foundation of the "Consorzio di tutela e valorizzazione della Mela Grigia di Torriana", with the objective of reconsidering this old apple variety, the pippin.
Galleria fotografica