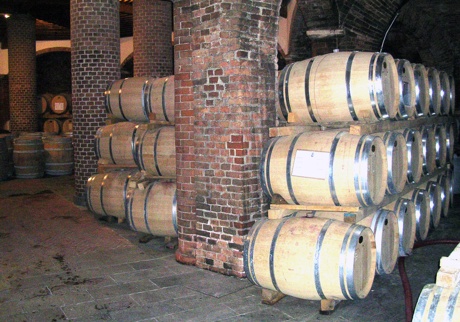 Name
Nebbiolo of Alba
Seal of quality
Guarantee of Origin.
A.O.C. – D.P.R. 27th May 1970
Description
An impeccable garnet red wine, offering a bouquet blending fruity hints of raspberry, geranium and wild strawberry with ethereal and spiced tangs of cinnamon and vanilla; its flavour, totally dry , is enhanced by its full body, where alcohol, acidity extracts try to create sensations of sheer harmony and elegance.
The vine is 100% Nebbiolo and the minimum alcoholic content is 12% vol. A minimum one-year ageing period is foreseen.
Area of production
It includes the entire administrative region of the communes: Canale, Castellinaldo, Corneliano d'Alba, Monticello d'Alba, Piobesi d'Alba, Priocca, S. Vittoria d'Alba, Vezza d'Alba, Sinio and Govone and a part of the communes of Alba, Bra, Baldissero d'Alba, Castagnito, Diano d'Alba, Grinzane Cavour, Guarene, La Morra , Magliano Alfieri, Monchiero, Monforte d'Alba, Montà, Montaldo Roero, Montelupo Albese, Monteu Roero, Novello, Pocapaglia, Roddi, Rodino, S. Stefano Roero, Sommariva Perno and Verduno.
History
It was on 27 th May 1970 that the Decree of the President of the Republic granted Nebbiolo d'Alba wine AOC status (Guarantee of Origin).
Almost thirty years have gone by since then, now in the 21 st century, it is the market that is confirming the validity of that decision.
In the Alba area, Nebbiolo has been one of the vine species for a long time now, joining the productions of the hills on the right with those on the left of the Tanaro, and Nebbiolo d'Alba is an evident example of this magic collaboration.
In fact, its area of origin extends over 25 towns, some of which are situated on the right and others on the left of the river, confirming a quality vocation characterising both sides.
Nebbiolo, or rather "the fog vineyard" because of its vegetative cycle so long as to ripen the grapes when the hills are already hidden by the white autumn fog, gives this wine all its noble and prestigious characteristics, although, especially on the left side of the Tanaro, it has been the last to abandon the "palatable" type to become a totally dry wine.
Actually, towards the end of the 19 th century, it was precisely this wine that successfully began that line of red and sweet sparkling wines that were so in vogue in those days. Today, Nebbiolo d'Alba is once again a fashionable wine, but its characteristics run along completely different organoleptic lines: it is a red wine with important tones, able to resist time and positively place itself among the other great descendants of Nebbiolo.
In 1994, the "Consorzio di Tutela Barolo, Barbaresco, Alba Langhe and Roero" was founded as a point of reference for wine producers in the area between Langa and Roero, who have identified in this structure a means with which to face together and authoritatively problems relating to the development and organisation of their reality and sector as a whole.
Galleria fotografica